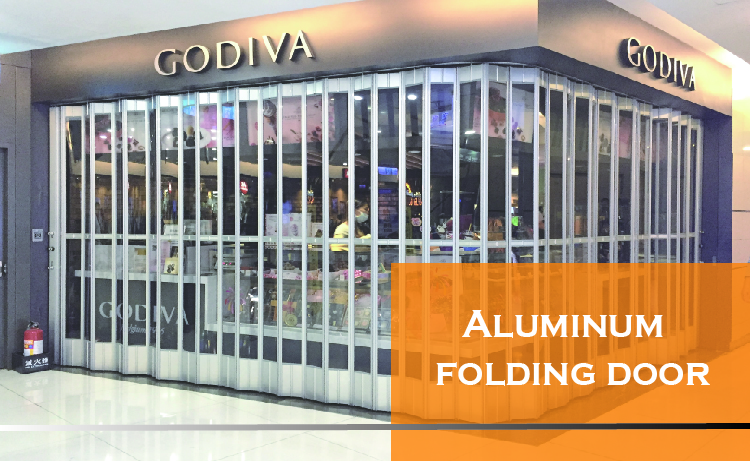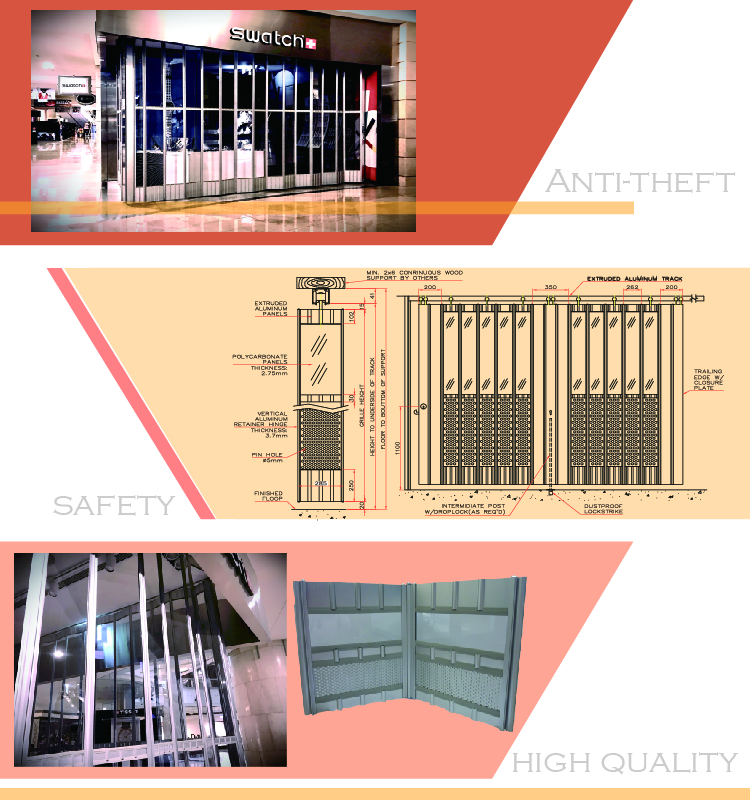 Recommend Specifications
The Folding Door shall be as manufactured by Metro Shutters.
Door Panel Type Options
Polycarbonate: 2.75mm
Aluminum Solid Panel: 2.7mm
Ventilation: Perforated 2.7mm thick aluminum sheeting
(Perforations are multi-hole of 5mm diameter, providing approximately 50% ventilation)
Operation
Operated manually by hand. The doors can be a single or bi-parting doors which can stack to one side or two sides as required. Refer to technical data sheets of stacking spaces. Check Here
Track System
An Overhead Track System is used. Single and double trolley rollers fitted with ball bearings are used and slide in an overhead track 41mm x 36mm wide aluminum extrusion. The fitted track may have a radius of no less than 600mm to suit curved applications. For elliptic curves, a template must be provided by purchaser.
Panel Sizes
SFD 300 is 285mm overall
SFD 200 is 190mm overall
SFD 150 is 148mm overall
All Panels sizes will fold in a concertina style formation.
Maximum Sizes
The Folding Door can be manufactured to a maximum height of 4m and can span any width of opening.
Locking
The leading posts will be provided with a lock and 2 key cylinders which can be operated from both sides. As standard, the lock is supplied with a "builder's key" which enables the client to change over the cylinder to their own requirements or master keying. The master keying is responsibility of the purchaser or their client. Floor mounted sockets with spring loaded dust caps are included.
Finish
The standard finish is natural anodized aluminum.
Compaction / Starage Pocket Sizes:
Refer to Door Pocket Table or contact Metro Shutters for further information on your requirements. Typically the panels will compact to between 11%~18% of the opening size depending on the type of Door Panel used(SFD 300, SFD 200, FD 150) and the locking post configuration.
Weight
The door weights approx:
SFD 300 - 12kg/m2 | SFD 200 - 14kg/m2 | SFD 150 - 16kg/m2
Work by others
Unless otherwise specified:
Preperation of all openings, walls and floors to receive the Folding Door. Provision of structual supports timber or steel, access panels, or any joinery work.
Product